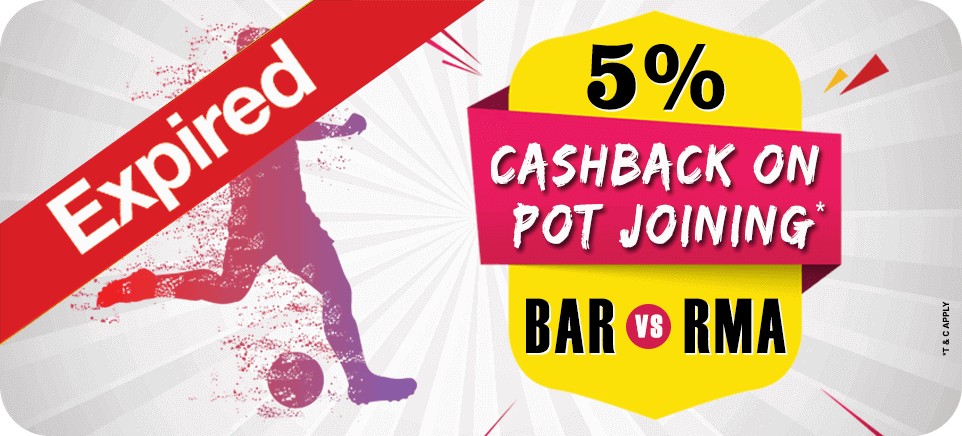 This offer has expired. For latest or ongoing offers Click Here
El Clasico Offer:- 
-For pots joined with this deposit or winnings, the user will receive a flat 5% cashback as PlayerzPot bonus. 
-The offer is only valid for Barcelona vs Real Madrid.
-A bonus will be given for joining pots for one match.
-A user can get maximum cashback of Rs.5,000/-
-The cashback is applicable only to completed matches.
-This is a limited period promotional offer.
-Cash-back will be credited into PlayerzPot Bonus Cash within a maximum of 48 hrs of match completion.
-Users will receive cashback based on the pots he/she joins. If the user joins two pots one with entry fees 70 and other with 80, in that case, the user will not receive Rs. 7 bonus as an accumulated bonus but two different bonus of Rs. 3 and Rs. 4.
-Cashback will be given only on joining the pot from the deposited or winning amount.
-PlayerzPot Media Pvt Ltd has sole rights to change or update these T&C with or without prior notice to the users.
-Cashback (bonus) given to users should be utilized within 30 days from cashback being credited, after that, the bonus will expire and no longer available to use.
WE ACCEPT
All Major Credit, Debit Cards & Net Banking From Leading Banks