Rummy, like every other game, has a long history of having an online avatar. Card games have always been popular because of their engaging nature. They have that vibe that will tickle your brain and help you develop skills. Playing cards is frequently regarded as a stress reliever. Rummy has evolved into one of the most popular
card games
among the general public.
Rummy is very popular in online multiplayer. It is considered one of the oldest and best among all other
rummy games
available across the world.
With rummy's move to the internet, it's now a must-have app for any rummy fan's smartphone. Every day, approximately 50000 players in India participate in
Indian rummy games
. The online version of the physical rummy game adequately addresses the constraints of the physical game. The Indian government has now approved
online rummy
. The skill-based nature of the Indian rummy game is well-known. All of the game's associated fear and shame are now gone. People can play freely and have a good time.
Nowadays, it's common for players to have difficulty finding an opponent for a game of rummy. This problem has been completely eliminated since the introduction of online rummy. Players can now play at any time and from any location. There are a variety of games and tables to choose from on
online rummy sites
. At the same time, players can play on multiple game tables online. In addition, many websites have
free rummy card games
where new players can learn the basics of the game.
In today's world, there are many more reasons to
play rummy online
. All online rummy sites hold various
rummy tournaments
every occasion and festival. Players can win a large cash prize as well as gifts in these tournaments. Every card game enthusiast's go-to game is online rummy.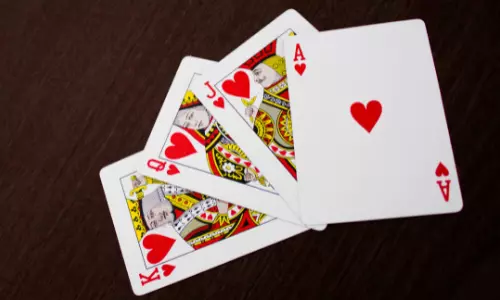 The rules for this game are almost similar to the Rummy card game.
Rummy online produces two types of cards, namely: Ante and Draw. The ante has no specific value assigned to it, while each draw offers a fixed number of points.
Enthusiastic players have developed many variations to this game over time, but mostly they follow the guidelines and regulations provided by online Rummy itself.
A standard 52-card deck is used in rummy with 4 players. As per regulations, each player gets 10 cards from which he has to discard (discard is also known as meld) two cards which will form his/her final hand. The rest of the players are required to draw fresh cards from the pack.
The player who can form their hands first is declared as the winner, but if all the players do not have melded their hands, then player with maximum points is declared as the winner. If there are more than 1 winner, then the game is declared as a 'rummy'.
Rummy games online
provide a great way to spend free time while having fun and without any fear of judgement. Playing this game has become more accessible due to its presence on the internet. One can make money from this activity as well if he/she is good at it. Every rummy player would like to play it on an app, which is why
Rummy Game Online
is quickly becoming popular among all kinds of players.