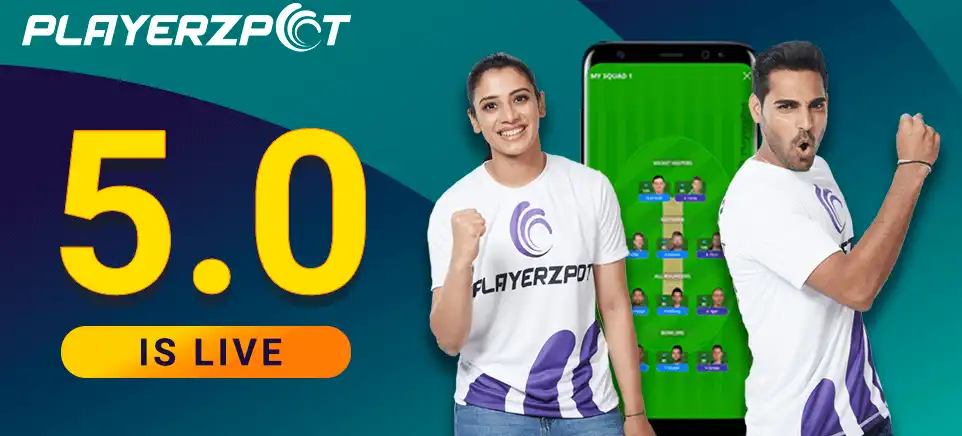 Welcome to the New Update 5.0
Now upgrade your Playerzpot experience to a whole different level with newly added features & enhanced interface.
What's New?
Brand Ambassadors
We are delighted to announce the signing of two world class cricketers in Bhuvneshwar Kumar & Smriti Mandhana as our Brand Ambassadors.
Withdrawal Limit Increased
All three modes of withdrawal have increased limits now taking the overall figure to 1 Lakh.
Snakes Ladders & Ludo
Improvements have been made to further enhance your gaming experience.
Quiz mode launched
Exciting quiz mode launched so you can continue earning in the lockdown period. Check out the Categorical Quiz & Quick Online Quiz & make the most of your knowledge.
Baseball added
Your Fantasy Sports options just got even bigger. We have now added Baseball mode to Playerzpot!
Enter with 12 Squads
Yes you heard that right. Now join with maximum 12 squads instead of 7. Massive increase in your chances of winnings!
Check Bonus Utilization
See the bonus bifurcation tab before joining the pot to check out how much bonus you can apply for every squad entry.
See Pot Progress
Now see how many squads you have created and the pots you have joined. It will be displayed numerically right there on the pot page.
Multiple Winners
Pot with multiple winners has now been added to the newly launched Quiz mode.
Low Commission Pots
Many low commission pot options have been added. Check them out utilize the options to the fullest!
UI Changes
Enhanced user interface tweaks to make your game experience even more fun & hassle free.