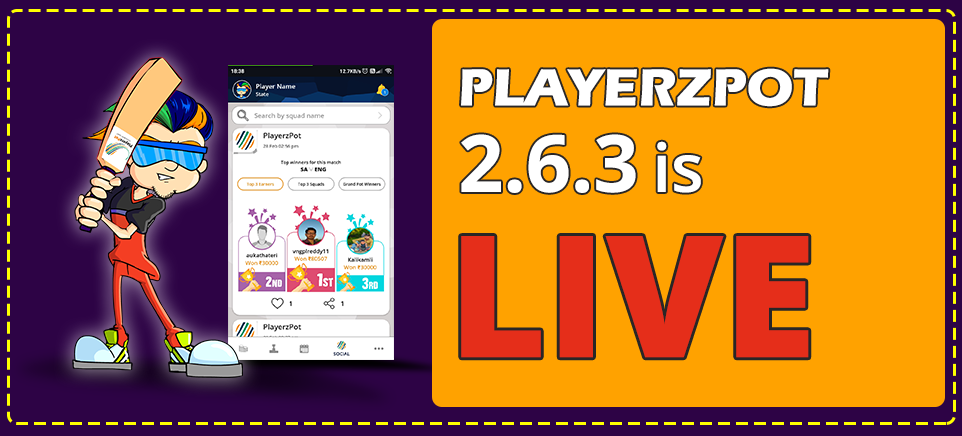 Welcome the New Update 2.6.3
Get Excited!!
PlayerzPot highly requested feature is live to make it easier for a user to win more.
What's New?
Follow your Followers
Now User can follow its opponents or any friend by using search in the social section. Squads shared by their opponents would be visible to the users.
Why this feature?
This will let the user check out their follower's post and let them share their squad.
Follow the Winners
You can also follow the provided list of Daily, Weekly or Monthly winners with this update.
Why this feature?
This feature has been introduced to motivate our users to play more to get featured on the leader board.
UI Changes
User can check their squads created and the pots joined all at one place.The new features allow the user to experience hassle-free accessibility in the app.
Why this Feature?
This will reduce the user's efforts while creating their squad and provide them with an easy platform to perform.
Tournament mode Bonus utilization
Now finally the user can utilize their bonus to join the tournament mode.
Why this feature?
Our aim is to engross the users to play more tournaments.
Why are the features updated?
Making our app trustworthy
At PlayerzPot we always give priority in maintaining transparency and authenticity for our users. Enhanced User satisfaction is vital for us.
Greater Efficiency
We always work hard to provide a smooth-running app to our users.
Growth
We always work on updates to provide growth of our users in our app. We are coming up with many more features to provide our users with additional benefits.