India's National Crush Rashmika Mandanna is known for her blistering performances on the big screen. An acting career that started 7 years ago is now building a legacy of her own. The Srivali from Pushpa is now a household name, thus garnering the title "National Crush". With the growing popularity it was given that Rashmika will be partnering with some of the prominent brands across the country, perhaps some unique ones that are growing in this tech-savvy world.
Playerzpot is one of the leading fantasy and casual gaming platforms in the country. From humble beginnings in the year 2015, the gaming platform has made great leaps in nurturing the growing space of online gaming. With a vision of gaming for all, Playerzpot has partnered with Rashmika Mandanna in their bid to reach out to fellow gamers, who will recognize their Talent Ki Value by playing skill-based casual games. This strategic partnership with Rashmika Mandanna will surely see Playerzpot tap into a niche pool of audience.
TalentKiValue is a perfect launchpad for online skilled gamers to make the most of their gaming skills. Playerzpot is known for its best offering in games like Snakes, Ladders & Ludo, Ludo, Carrom, Chess, and much more. These games are well-known amongst the gaming community and with this initiative, more and more gamers are made aware of their talents and how well they can utilize them by playing these games on Playerzpot.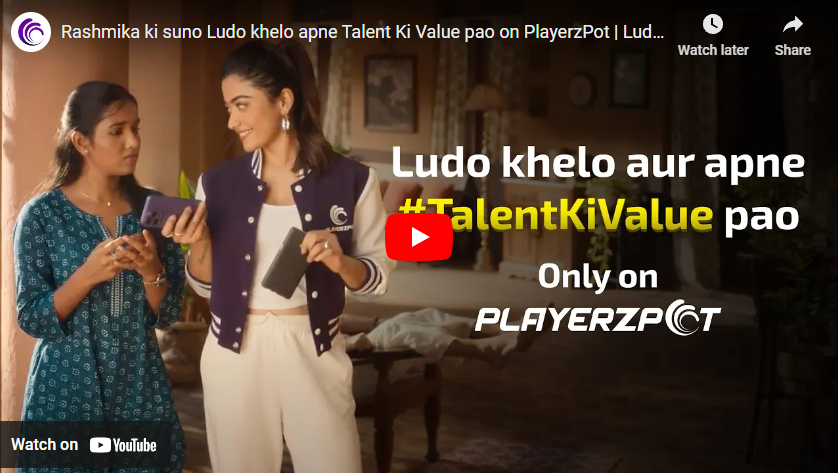 It is really simple for any gamer to start playing these games on Playerzpot. Here the players can choose to play different skill-based casual games. Depending on their preferences there are pots, which represent different games based on the price segregation. The potential to earn real money is through cash games and tournaments, the winnings are as big as up to Rs. 50 Lakh along with other bonus rewards and prizes that come along with it.
A total of 1.5 Crore+ trusted users are now enjoying their favourite games on Playerzpot, thus recognizing their Talent Ki Value. With over 1 lakh plus downloads from the Google Play store, the super gaming app of Playerzpot is spreading its arms far and wide, only bringing the best online gaming experience to the users. Not to forget the infamous Refer & Earn program through which you can earn extra cash bonuses and exciting rewards. All you need to do is refer the Playerzpot gaming app to your friends, and once they start playing you will be rewarded with a bonus.
The fun doesn't end here, along with these popular games you also have skill-based arcade & board games which can be played by anyone, as these games do not require you to know a specific gaming skill and are self-explanatory. At Playerzpot, you can enjoy games such as Ludo, Chess, Carrom, Ludo Raftaar, Dino Run, and Sheep Fight, owing to the easy schematics and structuring of these games, they are simple yet intriguing also providing an avenue for players to make real money.
Playerzpot has engineered the right formula in partnering up with Rashmika Mandanna in providing the best skill-based casual games. Games have been an extended arm for the source of entertainment and side income for many of the online gamers and this trend is yet to hit its peak. The belief at Playerzpot is clear to make gaming accessible to all, where the gamers can find true value for their talent. This strategic partnership is only about opening new doors for online skill-based games and you sure wouldn't want to miss out on that!